In today's hyper-connected world, we realise that having a compelling site design is crucial for successful online operations. It's astonishing how quickly attention spans seem to fall nowadays. The first impression of any website can either make or break its potential for development and engagement. That's why we have compiled a list of the top ten stunning websites that have inspired and ignited my creative fire, hoping they will do the same for you.
Whether you're a designer seeking inspiration or just a casual internet user, these incredible websites will inspire you for their design, responsiveness and engagement. Let's delve into the innovative features they offer and uncover the secrets behind their remarkable success.
The Top 10 Stunning Websites to Take Inspiration From
There has recently been a significant shift from traditional to digital marketing. This shift has compelled businesses to find innovative ways to stay competitive and captivate their audiences, ultimately driving higher website traffic.
Here are the top ten websites that have taken website design to the next level and will inspire you to create beautiful websites.
1. Apple – The Magnificent World of Apple's Website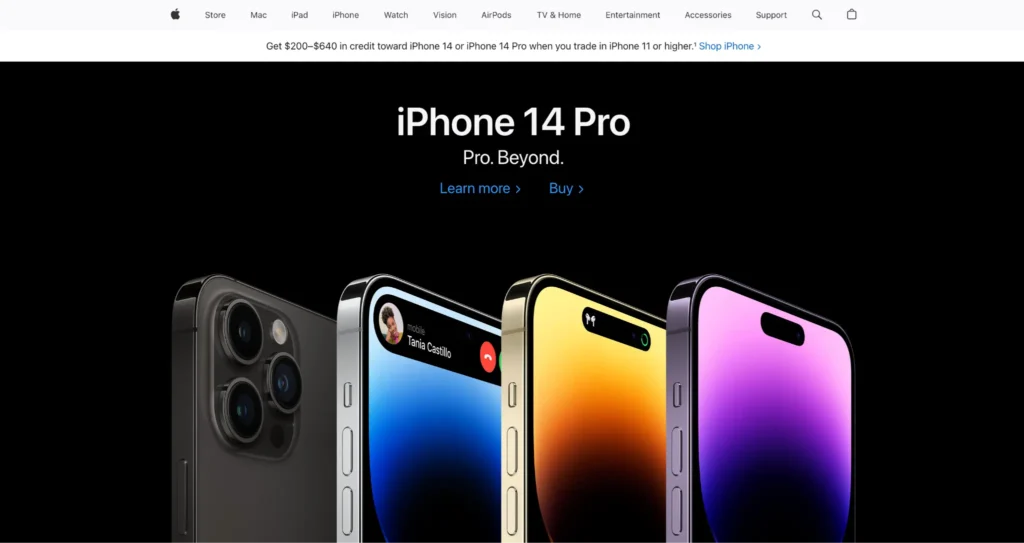 Apple's website boasts incredible features known for its intriguing design and seamless user interface. The sleek and modern design will instantly grab your attention, making you feel like you've entered the future. With its intuitive navigation, exploring the website becomes a breeze.
Apple meticulously crafts a roadmap of detailed specs and features for every product, leaving no room for ambiguity or oversight. It's like having a never-ending library of tech knowledge at your fingertips. But wait, there's more. Take a virtual tour of Apple's products and immerse yourself in the world of innovation. It's an experience that will leave you in awe.
When it comes to shopping, Apple's website is a sure bet. The shopping process is so easy and enjoyable that you'll love indulging in their products. And let's remember the personalised recommendations. It's like having a shopper who knows exactly what you need. Apple knows how to create an immersive digital experience that will keep you returning for more.
2. Dropbox – An Eye-Catching Website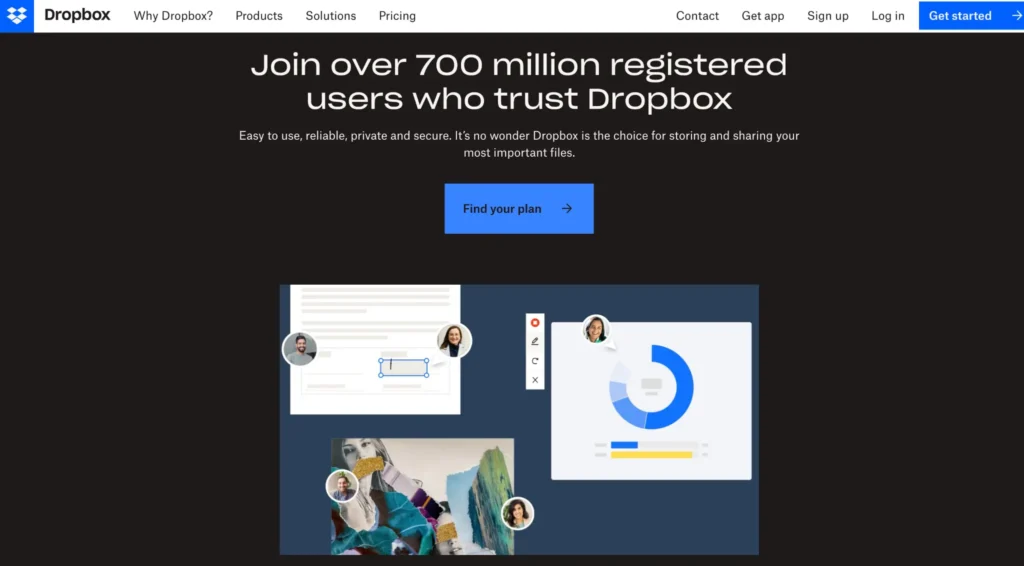 Dropbox's website is a masterpiece of practicality and simplicity, providing ample inspiration for web designers. Its design perfectly reflects this ethos, offering refreshingly simple and user-friendly options that lead to a seamless journey. The elegant colour gradients and premium fonts add a touch of sophistication, making it visually appealing.
Its clean and straightforward layout enhances the user experience, guiding visitors through its impressive capabilities effortlessly. The skilful use of white space, bold fonts, and brilliant accent colours results in a contemporary and visually attractive look. The site's flexibility ensures a consistent experience across various devices, improving accessibility.
Dropbox's website exemplifies how simplicity and functionality can harmoniously blend, creating a captivating online presence that leaves a lasting impression on users. As web designers, we can learn valuable lessons from their effective approach.
3. Nike – A Website Reflects the Brand's USP
Nike's website is the best example of a visually attractive and inspirational online platform. With its slick design and user-friendly layout, it fascinates visitors from the minute they land on the homepage. A visually engaging experience is created using high-quality images, exciting animations, and brilliant colours. The user-friendly interface seamlessly walks us through the many product categories, collections, and brand stories.
Nike's dedication to storytelling is visible in its fascinating content and immersive films, which establish a sense of connection with its viewers. Overall, Nike's website exhibits an excellent balance of aesthetics, functionality, and brand narrative, making it a top pick for web design inspiration.
4. Airbnb – A True MasterPeice Website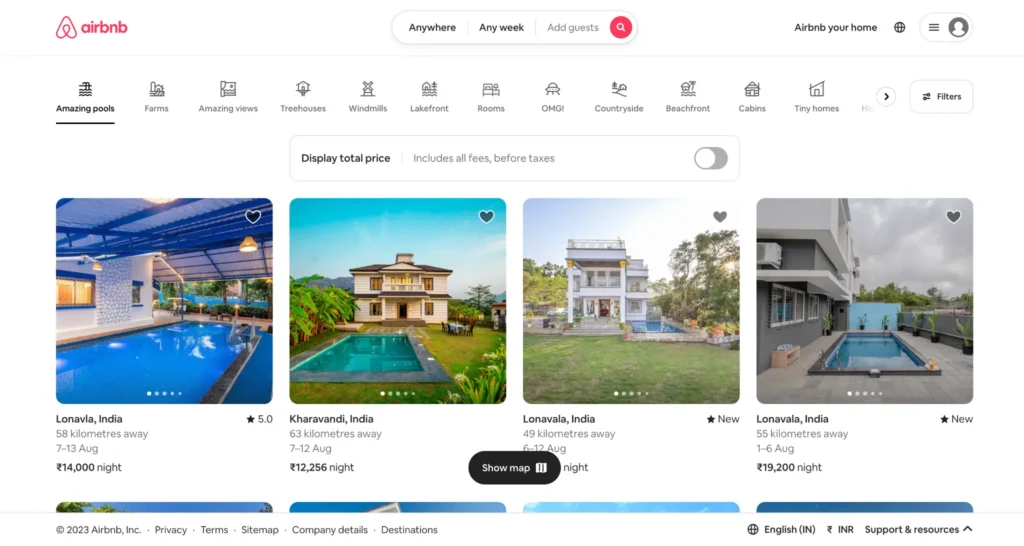 Airbnb's website excites your inner wanderlust with an inspiring spirit of exploration. Its simple and clear design quickly displays various fascinating locations worldwide. Visitors are thrust into amazing possibilities via colourful images and immersive narratives.
With the help of a user-friendly search engine, you can effortlessly explore a diverse array of lodging options, ranging from cosy cottages to opulent villas, all tailored to suit your unique preferences and interests.
The website's attention to detail guarantees an excellent experience from beginning to end, extending to its user-friendly booking system. The website of Airbnb is remarkably engaging, providing a window into the limitless world of travel and adventure.
5. Awwwards – The Pinnacle of Web Designing
Awwwards is a professional web design and development competition organisation that highlights the pinnacle of web design quality. Through its thorough selection process, it curates a collection of the most gorgeous and inventive websites worldwide. This treasure trove of digital craftsmanship is a never-ending source of inspiration for both budding designers and specialists.
Awwwards is unquestionably one of the top ten lovely websites to get inspiration from. These websites, which range from stunning graphics to revolutionary functionality, push the bounds of creativity and reinvent user experiences.
6. Stripe – Website that Sets the Benchmark of Excellence
Undoubtedly, Stripe's website is one of the most stunning sources of design inspiration. You will experience a simple and smart design that will amaze you once you visit the website. The tasteful use of whitespace imparts a feeling of elegance and sophistication while letting the vivid blue accents stand out and highlight key components. Clean and legible font helps traffic to navigate the website with ease.
The surfing experience is wonderful due to the easy navigation and clear user interface. The website for Stripe is a model for how aesthetics and functionality should come together, making it a great place for web designers to get inspiration.
7. Medium – Website with the Most User-Friendly Interface
Medium is a well-known blogging platform, and its website features a content-focused design with a simple font, eye-catching graphics, and an enjoyable reading experience. With its sizable collection of articles and blogs on various subjects, you can locate many beautiful websites to get inspiration from. Medium offers everything, whether you like brilliant colours, simple designs, or engaging user interfaces.
Moreover, the platform provides a seamless and interactive commenting system, allowing readers to actively engage with the content and authors. Additionally, Medium's intuitive navigation makes exploring different topics and discovering new voices in the blogging community easy.
8. Mailchimp – A Website that is Functional And Visually Appealing
Mailchimp is a standout when it comes to beautiful websites that grab visitors. The website for Mailchimp seamlessly fuses elegance with practicality because of its simple, modern style. An engaging and memorable user experience is created through vivid colours and aesthetically attractive images. Its simple access to many services and clear navigation make it a go-to email marketing and automation platform.
The website of Mailchimp is a superb illustration of how to achieve the ideal harmony between aesthetics and usability, making it a great source of inspiration if you're looking to develop a powerful and aesthetically attractive online presence.
9. Trello – An Organised Website
Trello, a distinctive website, rightfully claims its spot among the top 10 stunning sources for design ideas. Its outstanding user experience and aesthetically pleasing design make it a remarkable platform for project management and collaboration.
With its vibrant colours, easy-to-use interface, and tidy layout, Trello offers a visually appealing experience. The clever use of cards and boards to organise tasks and information enhances practicality and adds an attractive touch.
With its adaptable design and fluid animations, Trello is a true inspiration for web designers and developers, elevating the entire user experience to new heights.
10. HubSpot – An Uncluttered Website
The HubSpot website unquestionably claims its place on the list of beautiful websites that act as a source of inspiration. The Hubspot website is simple to use and clutter-free in design. A sense of professionalism is created by using white space and subdued colours.
The website is made more interesting by the addition of video material. HubSpot raises the bar for contemporary web design with its slick aesthetic, simple user interface, and alluring imagery. The website creates a smooth browsing experience by skillfully fusing a simple style with attention-grabbing images.
Every component of the HubSpot website oozes professionalism and style, from the bold colour palette to the expertly created typography. HubSpot is an outstanding source of inspiration because of its abundant resources, clear navigation, and dynamic content.
Conclusion
In the fast-moving digital landscape, the design of your website holds the power to either propel or hinder your business's success. The carefully curated selection of websites above is a testament to the elevated artistry in website design.
Drawing insights from these examples, you can craft a captivating website that engages your target audience effortlessly. Remember that a poorly designed website can deter potential customers, while a well-crafted one can position you ahead of your competitors.
In conclusion, these top 10 stunning websites inspire designers and developers seeking to create visually striking and user-friendly online platforms. Each showcased website showcases a masterful blend of creative design elements, innovative layouts, and seamless user experiences.
Ready to create a captivating website that sets your business apart? Embrace the power of exceptional design and seamless user experience – Get started now.